Travel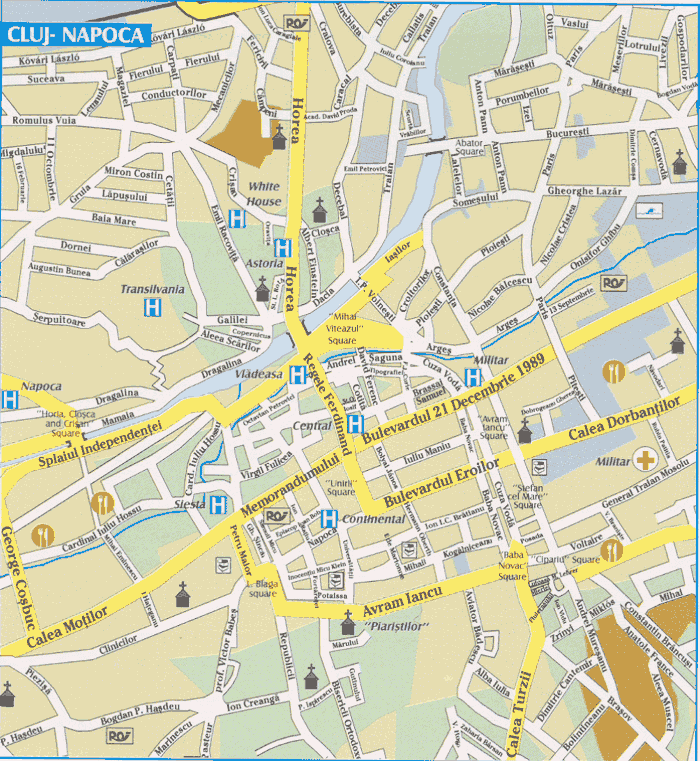 Airport
Cluj International Airport, 5 miles from downtown Cluj
Domestic flights: daily flights to / from Bucharest and Timisoara
International flights: scheduled flights to/ from several cities in Austria, Italy, Germany and Hungary
Train Station
Cluj Train Station (Gara Cluj)
Strada Garii nr. 1-3, Cluj (2 miles from downtown)
Daily connections to / from any city in Romania
Daily connections to / from Hungary, Austria, Czech Republic
International Bus Companies serving Cluj
ATLASSIB — scheduled bus service to Austria, Hungary, Germany, Serbia, Italy, France, Sweden — www.atlassib.ro
CALIBRA — scheduled bus service to Hungary, Austria, Germany, Switzerland, France
TRANS EUROPA — scheduled bus service to Germany, Netherlands
UNIFIX — scheduled bus service to Germany
GETTING TO CLUJ NAPOCA

BY PLANE
The TAROM domestic flight from Bucharest (from Otopeni Airport) to Cluj-Napoca takes a little about an hour. The airport is located in the east side of the city. There are bus and taxi connections from/to the airport.
Cluj-Napoca has an international airport. There are direct flights to/from Budapest, Treviso, Bolognia, Vienna, Frankfurt, Stuttgart, and Muenchen (operated by CarpatAir and Tarom). Current schedules are: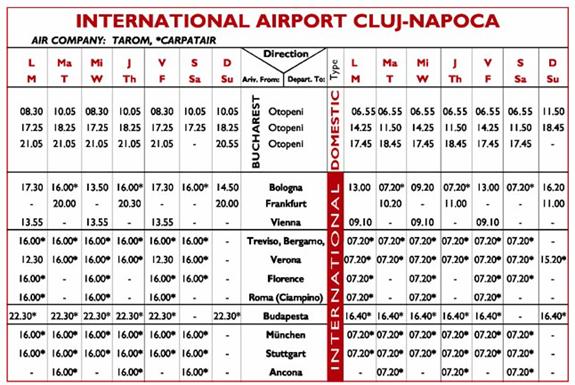 BY TRAIN
Depending on where you're coming from, you'll easily find trains that pass through Cluj-Napoca because the city is an important railway node. Here are the intercity trains connecting Cluj-Napoca with nearby cities: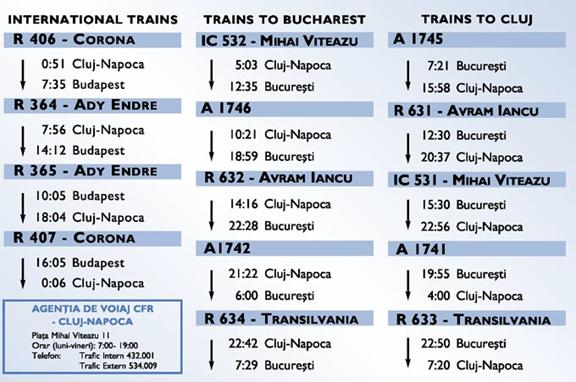 BY CAR
The closest border crossing point and the one that allows the highest traffic is BORS, about 180km W-NW of Cluj-Napoca, at about 20km west from Oradea. There are two other border crossing points within the border with Hungary at NADLAC and PETEA (near Satu-Mare), but they offer longer routs to Cluj-Napoca.
The map of Romania and the maps provided by TURISMINFO and should help.